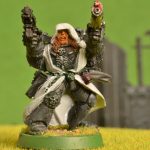 Games Workshop Community Pages have not been holding back with Pre-release drip feed updates on the new Warhammer 40k version. In the last few weeks we have had updates about all the different turn phases, and so far, I like what I see!
Since my last article on the new Warhammer 40k release we have had articles on the shooting phase; assault phase, vehicles and monsters, moral and break tests, amongst others.  Now we are getting updates about how GW see the new rules affecting the different existing armies starting with the armies that are seen to benefit most from the new rules.
Shooting Phase
After the Movement and Psychic phase article was released the next article covered shooting. On the expectation that these articles are released in some semblance of order, I expect that there will be a separate psychic phase after themovement phase and it will not be handled in a command phase like Age of Sigma (boo!).
The shooting phase has changed a bit moving closer to what we see in Age of Sigma. The main feature is that the members of a unit can choose different targets.  This means that heavy weapons will be more useful in a tactical squad, but also squad members with basic weapons can take on different targets too. If you take out all the members of one unit and some squad members have not shot yet then the remaining squad members can take a different target.
Unit profile will have a 'to hit' ballistic skill. This will give you a score that you will have to beat to hit your target. This score looks like it will be modified by terrain, night fighting, or smoke.
Cover saves look like they are charging too. At the moment it is often not worth placing your Space Marines in buildings as their 3+ armour save is better than the 4+ building cover save. It looks like in future cover saves will be a modifier that improves your save roll in the opposite way to weapon rend scores reduce the save roll target.
Assault / Fight Phase
The talk of unit activation makes me think that the fight phase will be more like the AoS combat phase. The note that charging units will go first is ambiguous though. In AoS units only charge in the controlling players turn, so only one unit is guaranteed to hit first in the combat phase. I suspect more details about this will be released eventually!

I will be keeping an eye on the release news and report back here with any insights gleaned from the community pages!

Tags: