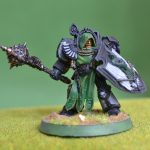 The new Dark Angle Codex has been released just in time for Christmas!
Since the release of Warhammer 40000 8th Edition Games Workshop have been pumping out the Codex army rule books. Now it is the turn of one of my favourite armies, the Dark Angle Space Marines.
In the codex you get the usual fluff and backstories about the army.
"Codex: Dark Angels contains a wealth of background and rules – the definitive book for Dark Angels collectors. Within, you'll find:

– The First Legion: the origins of the Dark Angels – one of the most famously secretive Chapters – their homeworld, and the dark stain on their history that motivates their crusade of vengeance;
– A guide to the Dark Angels' Chapter organisation, with an explanation of their constant, obsessive hunt for the Fallen, along with their heraldries and Chapter markings;
– An overview of the Ravenwing and the Deathwing, specialist companies unique to the Dark Angels;
– Detailed colour schemes and heraldries of 8 successor Chapters: Angels of Redemption, Angels of Absolution, Angels of Vengeance, Blades of Vengeance, Consecrators, Disciples of Caliban, Angels of Defiance, and Guardians of the Covenant;
– In the Name of Absolution: a timeline of significant events and battles in the history of the Dark Angels;
– Background and details on each character and unit available to a Blood Angels [Dark Angel] army;
– A showcase of beautifully painted Citadel miniatures, with example armies featuring everything from individual images of models to battle scenes on terrain."  – WarhammerDigital.Com
Here at WargameTactics.com we are far more interested in the gaming side of the hobby so:
"Everything you need to get a Dark Angels army primed for games of Warhammer 40,000 is in here:

– 76 datasheets containing rules for every Dark Angels unit and miniature;
– Army abilities reflecting the Dark Angels' methods of war on the tabletop;
– Armoury of the Rock: wargear both ranged and close-combat for use by Dark Angels armies;
– Points values for all miniatures, weapons and wargear for use in Matched Play games;
– Angels of Death: rules for Battle-forged armies, including:
– 6 unique Warlord Traits available for any Dark Angels commander;
– 26 unique Stratagems;
– Relics of Caliban: a selection of 6 rare weapons and artefacts unique to Dark Angels armies;
– Interromancy Discipline: 6 psychic powers available to any Dark Angels model with the Psyker keyword;
– 6 unique Tactical Objectives." – WarhammerDigital.Com
With the latest Dark Angle Codex the Dark Angles are getting access to all the classic Dark Angle units like the Deathwing and Ravenwing plus the new Gravis Armoured units that we saw in the Index: Imperium 1. On top of this we see that some of the nice generic Space Marine toys have been made available like the Stormraven Gunships and the Stalker & Hunter battle tanks.

There are a lot of good things found withing the pages of the Dark Angel Codex, and I am exited to see how the changes pan out and how effective the Dark Angles are against the other WH40k armies now that they are armed with their own codex.

Tags: