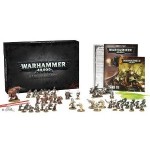 We all know that it is time for Warhammer 40000 to be updated. It has been 3 years since the 7th edition came out and that was a fix release from the 6th edition that came out a year earlier!
Don't get me wrong, the 7th edition of 40k has been very popular. The addition of objectives forced gun-line armies out from their barricades and give assault based armies an even chance. The move away from Standard formation armies to factions and themed armies has added co;our to the game too.
However to keep the game fresh the rules need to change and grow from time to time, and basically the time is right!
Here is the latest post on the changes due in the next version:
From the post I suspect / expect that Games Workshop will be taking some of the best bits of Age of Sigmar and bringing them back in to Warhammer 40,000.

The first on the list was the recognition that the Generals Handbook and the '3 ways to play' have been a great success in Age of Sigmar. I do have to echo this recognition too. The simple free play version of Age of Sigmar makes it very easy for new players or occasional players who have a handful of nice looking models to get in to gaming with little effort and no extra cash expenditure. This has had the effect of drawing new players in to the game. Some of these new gamers will stick with the game and become more competition later. Warhammer 40000 has had less difficulty drawing new players, however a lower entry point will be a bonus to adding new blood to the game.

Another success from Age of Sigmar that seems to be coming to 40k is the war scroll idea, where all the points and rules for a unit can be found on one page (weapon special abilities, movement rates, etc). This is not massively new to 40k, the newest codexes have been redesigned so that upgrade points costs are on the fact sheets instead of having to search two section at the same time while building your army lists (upgrade options in one section, points costs for the upgrades elsewhere). From the GW post it looks like any unit special rules will be joining them on the unit fact sheet. This should slim down or remove the Special Rules section of the rule book, and thereby halving the rulebook size!

Moral check changes where mentioned in the Games Workshop post too. These proposed rules look exactly like the Age of Sigmar Moral tests. I didn't think that there was anything up with the current Moral tests, but one system that covers both games will make it easier if you are swapping from one genre to the other!

All told, I suspect that the new rules are being heavily play tested in GW towers, and any rumoured changes still have time to change again, however this is one player who is waiting for the new release with expectation!

Tags: