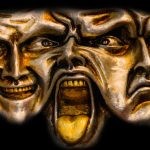 Games Workshop have released details of the new Warhammer 40k psychic phase, and as expected they are looking a lot like Age of Sigmar psychic rules :
https://www.warhammer-community.com/2017/04/28/new-warhammer-40000-psychic-phase/
The similarities to Age of Sigmar magic are:
A set number of psychic castings per model
2D6 to cast
Everyone knows one or two basic psychic powers, probably plus a signature psychic power.
What we don't know is if there will be a psychic phase, or if the psychic phase will be rolled in to  a command phase like Age of Sigmar. Personally I think that the Age of Sigmar combined command and psychic phase is working very well and I hope that this has been brought over to the new WH40k!
Smite is Right!
Smite is the power that all the psykers will know, and it does look like Arcane Bolt with 18″ range and an extra kick if you roll 10+. It is probable that 18″ will be the standard distance for psychic powers and dispels / deny the witch. If 18″ is the standard distance then it will be awfully close. Standard weapons range is 24″ and I don't see that changing. Also 18″ is on the edge of assault range. I suspect a 24″ range on psychic powers would work better.

There is mention of perils of the warp, but no mention of how you peril. I am thinking of a double 1 roll, but we will have to wait and see!

Tags: