Twang, whoosh, "Wee!" the sounds of another moonclan grot launched towards the Chaos army.  You may have thought that the Grot war engine crew would have difficulty finding Grots to send on a one-way trip in to the enemy lines, but this was not the case. Around the war machine where a throng of willing Grots wanting to fly high over their Orruk overlords, even if it was just the once.

Bubby was next in line to be hurled into oblivion. With his wing harness strapped on he flop landed in to the launch seat. The catapult groned under the weight but it held firm as the crew pulled back the bungie cord.All of a sudden the cord was released, Bubby felt himself catapulted forward at a tremendus rate just before blanking out.

Bubby woke up, still in the air hurtling towards the enemy. "No one warned me of that" he thought, but as noone had come back from one of these trips, it was no surprise! "Oh bother, I have over shot the Barron and his Guard. I will just have to hit something else. Bubby set is eyes on a Chaos Giant right in his flight path.

Gob the Giant thought it was his lucky day. The Grots where flinging treats high in to the air ready for Giants like himself to catch in his open mouth, and this one looked specially plumb and switched direction for an easy catch. Chomp! Down in one! However the Grot's wings got caught in Gob's throat.It turned out not to be Gobs lucky day at all!
The Grot Doomdiver is he classic war machine used by the Moonclan Grots. It consists of a big catapult, a few war machine crew, and a willing Grot that gets fired at the enemy. You need the models for the war machine and crew, but the 'Diving Grot' Grot projectile never stays on the table, so is not strictly needed.
How to Use the Doomdiver Catapult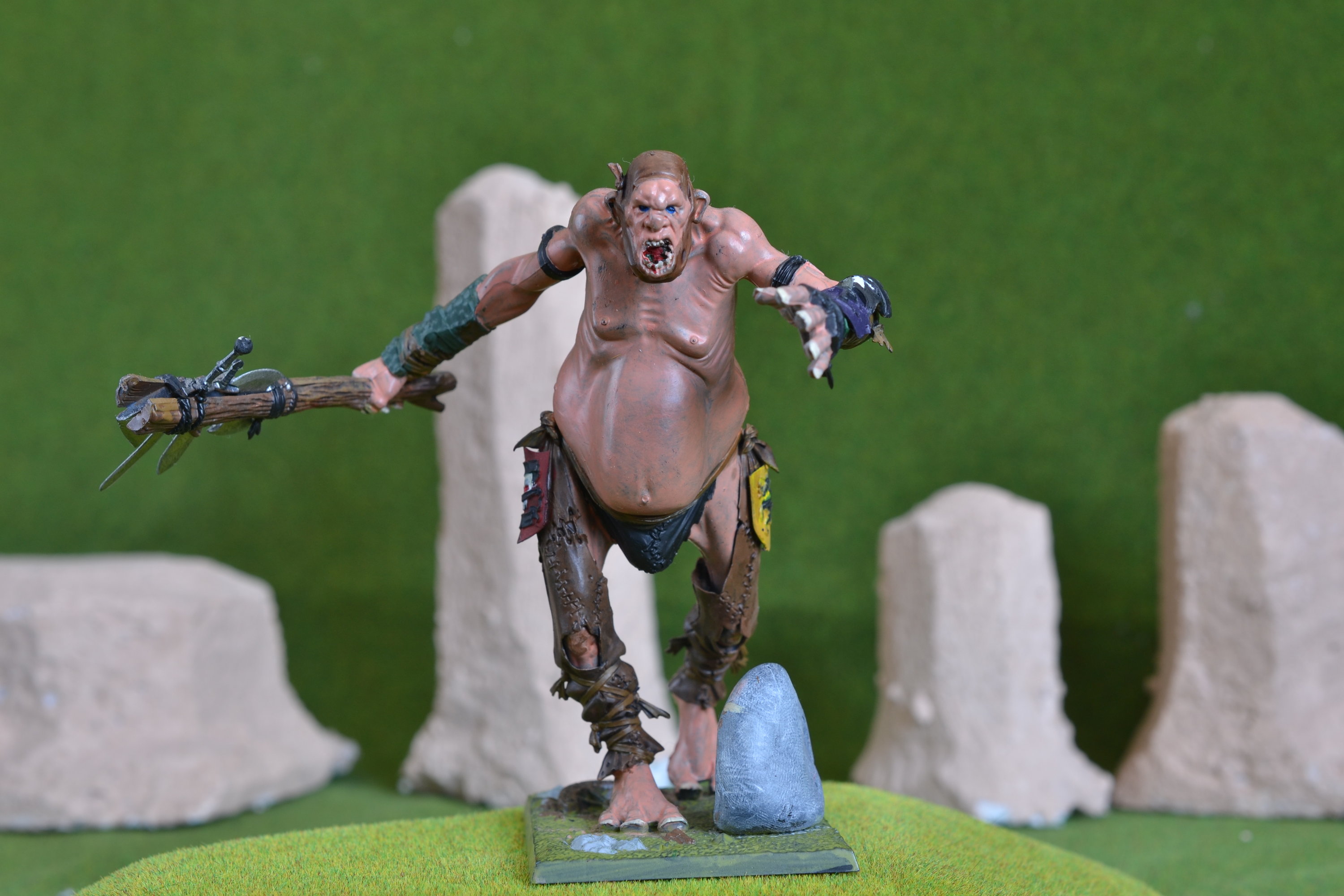 ​The Divin Grot is guided. This means that they are surprisingly accurate and can hit targets out of line of sight. The Divin Grot will hit 4 in 6 times. However if you miss you get a 50/50 chance to hit a 2nd unit within 10″ of the first one. So as long as you pick a first target that has a second possible within 10″ you have a 5 in 6 chance of hitting something before rolling to wound. Once you have hit a target you still need to roll to wound. As Divin Grots wount 2 in 3 times, you should wound most of the time.There is a -1 rend that will help negating saves, and models with a 6+ save will not save against Divin Grots at all.Giants are a favourate target of mine because they have  poor 5+ save and a few wounds will slow them down a lot!  Acouple of Doomdivers and a few good rolls can kill them off completely.

Divin Grots normally cause D3 damage. However if you set tem up in pairs them bot the Doomdiver Catapults cause D6 dammage. This is a massive bonus so I highly recommend setting the Catapults up in batteries of 2+

Doomdiver Catapults do better if there are a few crew around. The optimum is 4. If there are a few crew around you will be able to fire the Divin Grot further and move the Catapultaround faster if trubble comes your way! This is another reason to set up Doomdiver Catapults up in batteries. Unfortunatly  if the Catapult is destroyed the Crew can not join another Catapult. But they can be there to defend another machine against assault.

Tags: