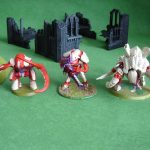 How to use the Tyranid Carnifex to maximum efficiency in a Warhammer 40000 8rh edition game!
The Tyranid Carnifex is one of the Iconic models in the Tyranid army. You can have three per brood, but watch the points!.
The Tyranid Carnifex and the Hive Mind
The Carnifex is subject to Instinctive Behaviour. This is less if an issue than it was.
The Tyranid Carnifex Leadership is not particularly high at Ld6. The main use of Leadership is to see if any models run off in the moral phase. One tactic here is to place the Tyranid Carnifex in front of your Tyranid Hive Tyrant. This gives the Tyranid Hive Tyrant some solid cover, and it allows you have a solid core for your Tyranid army that you can surround with your smaller Tyranid creatures.
Tyranid Carnifex Special Rules
The Tyranid Carnifex comes with a few special rules. They are easy to handle, but worth knowing that they are there!
Monstrous Brood
Although Carnifex Brood models need to start near the other Carnifex of that brood they seem to get bored of each other quickly and can wander off in different directions in the first movement phase.
Carnifex split up at the start of your first turn. This means that if your opponent gets first turn they will have to kill all the models of rhe brood to get first blood. After your first turn only one Carnifex to get first blood!
Living Battering Ram
If a Carnifex gets to charge in to assault then it does a whole ball of damage! First as you charged in you should get to strike first. Second, you get to inflict a mortal wound on a 4+. Thirdly you get +1 to your hits that round so only a 3+ needed.
This special rule means that Close Combat only Carnifex are back in the running. This is specially true if you are Hive Fleet Kracken.
Tyranid Carnifex Strength and Weapons
The Carnifex has a number of weapon choices that you can choose from. What weapon choices you take will depend on the opponent that you are facing. The three popular configurations ( in no particular order) are close combat specialists, heavy weapons platforms, or close support fire platforms with some close combat ability.
Scything Talons
The default weapons on the Carnifex is two sets of Scything Talons. These are close combat weapons, so if you stay with the basic options you will need to make sure that your Carnifex will get in to close combat range on a regular basis, and early enough in the game to be worth the points.
The Scything talons cause 3 damage and can re-roll hit rolls of 1. With this weapon you will want to target models with more than one wound. Tanks are the traditional targets for Carnifexes, but characters make a good target (meal) too.
If you have two sets of scything talons you get an extra attack. This makes having two scything talons very popular. This is so popular that we have a special unit entry in the Tyranid Codex, the Screamer Killer!
Monstrous Crushing Claws
The Crushing Claws upgrade gives you more bite in your close combat attacks. the downside is that they hit less often.  As this is a close combat upgrade, it's value is determined by the number of times that you get in to close combat.
Deathspitter
The Deathspitter is similar to the Deathspitter that the smaller Tyranid creatures get, however the Carnifex gets twin-linked Deathspitters. This is just as well as the Carnifex's BS3 score means that you will only hit 50% of the time. The re-roll will mean that instead of expecting 1.5 hits per turn you can expect 2.25 hits ( ie about 2 per turn and 3 hits about every 4 turns you shoot).
If you take two sets of Deathspiters then this rate of hits will double, but you loose your close combat weapons.
The strength and AP of a Deathspitter is not over awesome either. Basically they are 18″ heavy bolters. The usual opinion is – don't bother!
Adrenal Glands
Adrenal Glands allows the Carnifex to move an extra inch when it advances or charges. This does not sound much, but these extra inches do add up. .
Note: that you can still only declare a charge 12″ away from your target even though, with a good dice roll, you can get a 13″ charge in.
You can not advance and shoot heavy weapons. If you are configuring your Carnifex to be a heavy weapons platform with two Monstrous Bio-Weapons, then you will want to avoid this upgrade. If you are going for a close combat only Carnifex then this upgrade is a must!
Toxin Sacs
Toxin Sacs allows you to have a 1 in 6 chance of causing one additional damage if you wound on a 6+ in the Fight Phase.  This means that shooting weapons do not benefit from this upgrade, so heavy weapon Carnifex can forget about it! As for close combat 'Fexes then have a think about what targets you are planning on tackling. If you are taking on one or 2 wound targets, or even characters then an additional wound will be very little bonus. It's only when you are expecting to take on a few Monstrous Creatures or Tanks that the upgrade may start to pay for it's self. On this whole it's not likely to pay for it's self.
Tyranid Carnifex Screamer Killer Tactics
New in the 2017 Codex is a new breed of Carnifex – The Screamer Killer!
Gramps is back! When I say that the Screamer killer is a new unit, rally it is a throw back to the original metal Carnifex. The original Carnifex had 2 pairs of monstrous scything talons and had a screaming vomit shooting attack.
The Screamer killer has two forms of attack, the Monstrous Scything Talons and the Bio-plasmic Scream. This combination means that it makes a great close support creature.
Tyranid Old One Eye Tactics
So you want a Carnifex HQ character? No problem! Here comes Old One Eye…

Tags: