If you have ever wanted to side with the alien in the 'Alien' film series, or you just like the thought of playing giant monsters rampaging across the gaming table, eating everything in sight, then the Tyranid army is for you!
General Tyranid Tactics
Tyranids are, on the whole, a close combat army. The sooner you get your Tyranids in to assault the better. There are exceptions to this rule. Some larger creatures have shooting weapons as well as close combat weapons, and some are dedicated artillery, but on the whole these are support creatures to your main assault.
While you are rampaging across the table you will be on the receiving end of a lot of gun fire. Do your best to start the game as close to the enemy as possible. Also do your best to hug and cover. This will help to get as many of your Tyranids in to the fight as possible.
Tyranid Abilities
There are a couple of general rules that cover all, or just about all of the Tyranid units. One is Instinctive Behaviour' and the other is the 'Hive Mind'. As it happens these two abilities are linked.
Instinctive Behaviour
Tyranids work better when they are psychically linked to the hive mind. If they are not linked then they revert to basic animalistic instinctive behaviour. Basically this means that creatures that are affected by instinctive behaviour (most of them) can only shoot at the nearest viable  enemy unit, and when they charge they can only charge the nearest visible enemy unit too. It does mean that you can move normally.
Synapse Creatures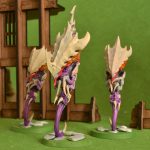 Synapse Creatures are Tyranid are the leader creatures connect the lesser Tyranids ( those with instinctive behaviour) with the greater Hive Mind. The range of this connection is limited though, limited to 8″ from the Synapse Creature to be exact! Note that some Tyranids, like the Hive Tyrant, have a special rule that extends this to 12″
Tyranids vs Tanks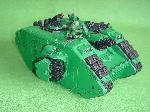 After playing a few games one issue that crops up is how to handle Tanks. The issue is that they have a good armour save and plenty of wounds. This combination is tough for the Tyranid shooting weapon arsenal. Also unlike most monstrous creatures, they can hang around the rear of the table away from your advancing troops. Shooting long range heavy Weapons they can takeout your Monstrous Creatures in one round.
To solve this issue you will need to drop units behind the enemy lines, get up close and personal, and your claws on those pesky vehicles!
The Tyranid army has a few options when it comes deep striking units. Raveners, Trygons, and Ripper Swarms can burrow up through the ground. Other options are to drop a unit in a Tyrannocyte, or have a unit pop up out of a Trygon hole. As tank hunting is the name of the game, you will want to get a Monstrous Crature in on the act. If you upgrade your creature will adrenal glands, there is a 30% chance that you can get into assault on the turn they arrive. Dropping several units in at the same time will greatly increase your chances of success! But watch the points cost. Dropping several Monstrous Creatures in will eat up points. Don't leave your front line too thin.
Tyranid Psychic Powers
Many of the Tyranid Synapse Creatures are also Psykers. Because Tyranids use psychic powers (after a fashion) to maintain their Hive Mind links some of these Synapse Creatures are powerful psykers. These psykers can use the standard Smite psychic power and usually one or more of the special Tyranid powers listed in the Index: Xenos 2 rule book.
Onslaught
Onslaught is a psychic power with a power level of 6 and allows a near by unit to Advance (run), and move and still fire at full ballistic skill and still assault in the assault phase. Used correctly this will get a unit that is usually slow right in to your enemies face. Carnifex and Hive Tyrants with both shooting and combat weapon are choice units.
Tyranid HQ Unit Tactics
With most armies HQ units add nice to have combat and command skills, but the army will function without them. With the Tyranid army the HQ units are where you will find most of the Synapse Creatures that keep the army together.
Tyranid Hive Tyrant Tactics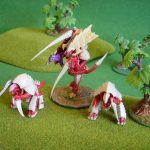 The hive Tyrant is the Classic Tyranid HQ choice, and for good reason too. It is a monstrous creature, with great assault and shooting skill. The Tyrant is a synapse creature and in resent incarnations, can fly too!
In later rule changes in the 5th edition of the rules the Tyranid Hive Tyranid was seen as such a threat that a 'shoot the big ones' was added where shooty armies could shoot at the Synapse Creatures even if they where hiding behind other units.In the 8th edition this has changed so that you can shoot at Characters with 10+ wounds even if they are not the closest visible model. At least the Tyranids are now playing on an even playing field with the other armies with Montrose HQ units (Daemon Princes & etc).
Wings or no wings?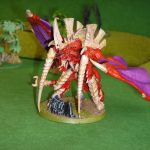 Wings add speed to your Hive Tyrant. This means that you will be able to use it's many skills over a greater area. Wings however come at a big point cost! So are they worth the cost?
Tyranid Swarmlord Tactics
When a standard Tyranid Hive Tyrant  just isn't big enough, then you can call on the Tyranid Swarmlord.  These have wings as standard!
Tyranid Old One Eye
Old One Eye is a classic Tyranid Character. The first Tyranid Carnifex with regeneration that seems to have spawned an untold numbers of Carnifex that also have regeneration!
Old one Eye is a HQ choice, however he is not a Synapse Creature. This means that I would not recommend using him (her?) as your main HQ choice, keep him in mind as a secondary HQ choice though!
Old One Eye is a plod along Tyranid with a 7″ move. You will need to give Old One Eye cover as he approaches the enemy,or better still, place him near an objective where the enemy comes to you.
Tyranid Genestealer Broodlord Tactics
Instead of having a monstrous leader for your army, there is an option to take a Tyranid Genestealer Broodlord as your HQ. This is better option for smaller games or if you fancy playing a swarm army that consists purely of smaller Tyranids.
Tyranid Prime Tactics
The Tyranid Prime is an oversized Tyranid Warrior. This is another possible choice if you want to keeps the points cost down.
Games Workshop doesn't do a Tyranid Prime model so if you want one you will have to model one yourself. You could take a Tyranid Warrior and beef it up, or paint it so the Prime stands out from other warriors. What I did was to take an unused Mk1 Tyranid Hive Tyrant that is a touch larger that the Warriors and used that as a Prime.
Tyranid Tervigon Tactics
Tyranid Tervigons are the Mother of all Tyranids, or at least Tyranid Termagants! This is a monstrous creature and not bad in a fight, however its (her?) main strength is that it can create 4 new Termagants each turn. This means that as long as the Tervigon is alive your army keeps growing!
The best way to use the Tervigon is to keep it behind the front line as long as possible and spawn off as many Termagants as possible. If your back line gets pressed then it can jump in to the fight.
Tyranid Troop Unit Tactics
An army with HQ Units only will be over run by more flexible armies with a good mix of HQ, Troop, Fast, and Heavy Support units. The backbone of any decent army is their Troop Units.
Tyranid Warrior Tactics
Tyranid Warriors are another very adaptable unit in the Tyranid Army. They are Synapses creatures (but not psychic), one in 3 models can have heavy weapons and close combat weapons, other models can have assault weapons and close combat weapons or 2 close combat weapons!
Tyranid Warrior Devourers
With an 18″ range and A3 at S4, the devourer is a decent assault weapon. This is specially true if you are using the Warrior in the usual support role supporting the smaller Tyranids as they approach the enemy.
Tyranid Genestealer Tactics
Genestealers are pure close combat creatures. They have no shooting weapons so get them into assault as soon as possible!
If you are playing a point matched game you will want to see which upgrades inflict the greatest damage to your enemy. This will be much easier to calculate if you know who your enemy is! Before the game and preferably before you write up your army list find out which army you will be facing. If you cannot do this write out an army list for each likely enemy and pull out the optimised list as you set-up.
Tyranid Termagant Tactics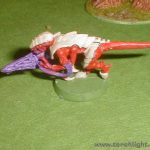 Termagants are the rank and file troops of the Tyranid army. They have a number of weapon options, but most of these are short ranged. You will need to get close to the enemy or set up an ambush for the Termagants to be effective.
Termagants are notoriously susceptible to instinctive behaviour. It is highly recommended that you keep a synaptic creature close to hand!
Devourer: 18", A3, S4. This is the basic Space Marine killer. Works well on Orks and other hords too. The multiple shots and half decent range make this the new go to  weapon for Termagants.
Fleshborer: 12", A1, S4. This use to be the basic Termagant weapon but with less shots and a shorter range than the Devourer, you would only choose this weapon if you had to or you needed to cut the points cost.
Spike Rifle: 18",A1, S3. This use to have some armour penetration, but now it's just another 18″ single shot weapon.
Spinefists: 12″, Pistol, A3. The go to weapon if you want the cheapest Termagant weapon. Because Spinefists are pistol weapons you can shoot with them in the shooting phase even if you are in the middle of an assault.
Strangleweb: 8", A D3, S2: Strength 2?, why bother?
Termagant Abilities: 'Hail of Living Ammunition'
If you have a unit of 20+ models you can re-roll 1's when shooting. This means that you don't get a bonus when in assault.
Tyranid Hormagaunt Tactics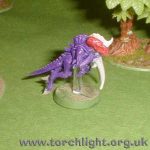 Hormagaunts are the faster close combat specialist troop units. With a 8″ move and a 6″ pile in and consolidation move.
As Hormagaunts are close combat specialists you will want to get them in to assault as soon as possible. There aren't many weapon options with a Hormagaunt. The Scything talons are your lot! Scything talons do give you 2 attacks per model and a re-roll when you roll 1 to hit. However with S3 you will be advised to target infantry units.
Tyranid Ripper Swarm Tactics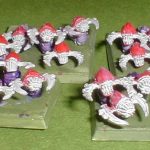 The often overlooked troop choice of the Tyranid army has many uses and are still very cheap in terms of points, and may be even in cash if you can find them second hand!
Deep Strike / Burrowing
Ripper Swarms can deep strike on to the gaming table as the Rippers are so cheap you can drop them in / pop them up, where ever they will cause the most disruption.
As Ripper swarms pop up 9″ or more away from enemy units at the end of the movement phase. This is too far away for the Rippers Spine Maw to hit anything useful, but you may be in assault range.
The Fly-paper Manoeuvre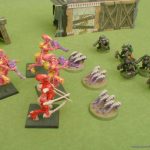 How do you stop units assaulting your key units? One way is to place a disposable unit between the enemy and your expensive units!
Capture Objectives
Ripper Swarms have the swarm keyword (no surprise!) however swarms can capture objectives again so let's do it! Using the Ripper Swarm's deep strike ability you can pop up and snatch objects. This is even better if you are playing 'Maelstrom of War' missions where you get points mid-game for holding tactical objects.
Tyranid Elite Unit Tactics
Elite units are the specialist units of an army. The Tyranid army is no different. Be careful though, Elite units can cost a lot of points. If you have too many elite units then you will find yourself out numbered on the battlefield.
Tyranid Tyrant Guard Tactics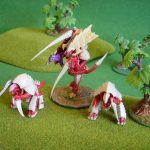 The Tyrant Guard are designed to be body guards for foot slogging Tyranid Hive Tyrants.
Shield Wall
This ability is the core of the units purpose. If one of the Tyrant Guard are within 3 of a Hive Tyrant when the Tyrant looses a wound then on a roll of a 2+ on a D6 the Tyrant Guard take the wound instead. As each Tyrant Guard have 3 wounds, a unit of 3 will give the Hive Tyrant an extra 9 wounds!
Blind Rampage
You may think that loosing your ward would be a problem, but not with the Tyrant Guard. Apart from the fact that they are subject to Instinctive Behaviour they do not suffer any ill effects. Instead the Tyrant Guard go on a rampage and get an extra close combat attack for each model.
Tyrant Guard Weapons
Tyrant Guard come with Scything Talons and Rendering Claws. This is the standard configuration of the current Tyrant Guard. The plastic Guard do offer some modelling options where you can swap the scything talons with other weapons. If you are getting your Tyrant Guard in to combat regularly then you may find upgrading to the Crushing Claws worth while.
Tyranid Hive Guard Tactics
Based on the Tyranid Tyrant Guard, and sometimes confused with the Tyranid Tyrant Guard is the Tyranid Hive Guard.
Hive Guard are heavy support artillery placed in the Elite section because there are loads of Heavy Support units in the Tyranid Army already! They are armed with either a 36″ Impaler Cannon or a 24″ Shockcannon. Of the two weapons the Impaler Cannon is the one associated with the Hive Guard.
Tyranid Hive Guard Impaler Cannon
It's not just Tau that can fire missiles around corners! The Impaler Cannon can target any unit in 36″. Line of sight is not needed.. Also the distance is measured as a direct line, not the path the Impaler would travel to reach the target!
Note : Need to check if units in bunkers or vehicles can be targeted.
The Impaler Cannon is a heavy weapon. This means that your BS will be knocked down one point if you move and fire in the same turn. Where possible place your Hive Guard in a safe place with a few target options to get the best out of them.
Tyranid Hive Guard Shockcannon
The Hive Guard Shockcannon is an Assault anti-tank weapon. If having D3 S7 shots where not enough, this weapon causes a mortal wound if you roll a 4+ to wound against vehicles, that's a 50/50 chance with each shot! If that's not enough, if you roll a 6  then you inflict D3 mortal wounds!
Tyranid Lictor Tactics
Tyranid Lictors are the sneaky infiltrators of the Tyranid army. They are engineered to work ahead of the main Tyranid army.
Hidden Hunters
Tyranid Lictors have a number of special rules that facilitates the hit and run nature. They can deep strike in to the game table mid game, the usual 9″ away from the enemy, but they do get a re-roll on the charge range when they come on to the table. This gives them an average charge range of 10.5″ and means that they are good assassins.
Choose your target carefully. make sure that it's one you can take out in one turn. Try to target HQ units that have become separated from their body guards.
If you do survive the initial assault there is a fair chance that your Lictor will be a distance from friendly support so it's time to run! To help you out the Lictor has a couple of special rules that make it easier to survive retaliation.
Tyranid Zoanthrope Tactics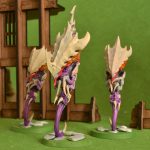 Zoanthropes have been bio-engineered to be super psykers. They normally go around in groups for protection.
Warp Field
To aid the Zoanthropes survive-ability they get a 3+ invulnerable save. As this is better than their 5+ regular save, even if they are hiding, you will probably be using this save most of the time.
Strength In Numbers
The Zoanthrope brood can have two psychic powers. Smite is one of them, and the other comes from the Tyranid Psychic Powers list. When Zoanthropes manifest psychic powers they manifest one power for the hole brood if there are 1 to 3 of them, and two powers a turn if there are 4 or more in the brood. Zoanthropes come in boxes of three, so units of six will be popular!
Another benefit of larger broods is that Warp Blasts cause an additional D3 Mortal wounds. It does not say is this means that you get D6 wounds, or 2xD3 wounds. Given a choice 2xD3 wounds is better as you will always get 2+
Synapse Creature
Zoanthropes are not great in a fight, however in the WH40k universe their 18″ or 24″ psychic power range is not great. This means that you will want to keep them supported by a body guard of lesser creatures. This is not so hard as Zoanthropes are Synapse creatures too!
Fly
Yes, Zoanthropes have the Fly keyword. They are still quite slow, as far as Tyranids go at 5″ a turn!
Tyranid Maleceptor Tactics
If you want a monstrous sized psyker then the Maleceptor is the creature for you! However this psyker needs to in the thick of the action! Apart from it's psychic powers the Maleceptor only causes damage at close range.
Psyker & Synapse Creature
The main reason for taking a Maleceptor in the army is for it's psychic powers. It can manifest one power a turn, but it has a +1 to the psychic roll. This means that casting Smite is quite easy and hardly ever fails!
The Maleceptor is a synapse creature that can keep the lesser creature in line within the usual 8″ bubble.
Tyranid Pyrovore Tactics
Pyrovores are short ranged (10″ range) flamer creature. It's main strength is clearing strongholds of infantry.
Pyrovores have moderate close combat abilities. With 2 attacks the Pyrovore will have hard work if faced with massed troops, The Pyrovores attacks are S5 and AP-3. This means that it will hurt power armoured troops. Aim for Space Marines and Chaos Marines. Even Terminators are viable targets!
Another less obvious skill is to resist an assault. With D6 automatic hitting even in overwatch, the Pyrovore will blunt assaulting units as they charge in. Remember that you only ge5t to overwatch once a turn and then only if you are not in close combat already. So the idea here is to thin out assaulting units before they get to you. You can scare units off, use terrain to funnel units, or just blast away from a distance until there is much in the way of opposition left!
Ok, so this may not be super easy, but if you use your Pyrovore to defend strategic locations then wait for the enemy to come to you!
Pyrovore Abilities
Pyrovores have a bit of a sting in the tail if they are wounded or killed in close combat.there is a chance that the Pyrovore will cause mortal wounds on the assaulting enemy units.
Pyrovores are one of the lesser seen Tyranids. You can still buy Pyrovores from Games Workshop. One advantage of this rarity is that your opponent may not know the Pyrovores abilities giving you an advantage!
Tyranid Haruspex Tactics
The Tyranid Haruspex is a close combat creature through and through. It's main 'weapon' is it's Ravenousness Maw.
The Haruspex is a close combat creature through and through. However with it's regeneration ability you want to aim for multiple softer targets. This is because the Haruspex regains a wound for each model eaten, and not each unit. Line up a unit of Imperial Guard and you could recover 3 or 4 wounds an Fight Phase. Remember that this includes the enemies Fight Phase as well as your own!
Tyranid Fast Attack Tactics
Tyranids are generally a close combat army. This means that you usually have to dodge a hail of fire before you can get your claws on the enemy. One way to get around this is to get some fast troops to tie up enemy units while your heavier, slower units catch up!
Tyranid Shrike Tactics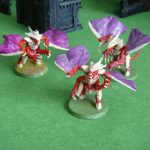 Tyranid Shrikes are Tyranid Warriors with wings. They share the Synapses ability with the Warriors. This means that they can bring order to all the Instinctive Behaviour creatures.
The other main ability that the Shrikes share with the Tyranid Warriors is the access to a wide of weapons. This means that the Shrikes are able to fulfil many roles. Heavy weapons, close fire weapons, and close assault weapons are all available. What's more like Warriors, Shrikes can carry two weapons. This means that they can be configured to be tactical, ie. able to take on changing roles as needs and opportunities change.
Tyranid Ravener Tactics
Tyranid Raveners are fast and light. They can pop up anywhere on the table (9″ away from the enemy). Raveners are subject to instinctive behaviour, however this is not a major restriction, so they are great at harassing the enemy flanks.
Tyranid Raveners usually come with two set of scything talons, and these are very useful in close combat. You can upgrade one set of scything talons to a deathspitter, devourer, or spinefists. Depending on your style of play you may wish to swap some close combat ability for some shooting ability. Raveners work well either way.
Tyranid Sky-Slasher Swarm Tactics
Tyranid Sky-Slasher Swarms are Ripper Swarms with wings. This gives them the fly keyword. This gives them faster movement at 12" a turn.
Sky-Slasher Swarms are cheap. This means that you can use them to slow down or distract the enemy from your main assaults.
Tyranid Gargoyle Tactics
Tyranid Gargoyles are in many ways Termagants with wings. This means that they are fairly cheap, carry fleshborers and fight like Imperial Guard (useless).
Gargoyles fly. This means that they can move 12″ in the movement phase and jump over obstacles.
Ability: 'Hail of Living Ammunition'
Another feature that Gargoyles with Termagants is that they get the 'Hail of Living Ammunition' ability. This does give the Gargoyles a boost when shooting.
Tyranid Harpy Tactics
The Tyranid Harpy is a monstrouse flying ground attack creature. Flying up to 30″ a turn at full strength with a minimum move of 10″ a turn, the Harpy can move around the board quickly.
Tyranid Hive Crone Tactics
Where as the Tyranid Harpy is a flying gun platform, the Hive Cron is an aerial close combat beast.
The Crone does have some decent shooting weapons. The Tentacilds have a special rule where it causes mortal wounds against vehicles half the time it hits. This is a help against lighter vehicles, but tougher tanks absorb a lot of mortal wounds. The targets of choice for this weapon are flyers. So shoot, move in close and pull flyers apart with it's scything wings.
Tyranid Spore Mine and Mucolid Spore Tactics
Spore Mines and Mucolid Spores can be taken as units, but they are usually set up as missed Biovore and Sporocyst shots.
Spore Mine Abilities
As Spore Mines and Mucolid Spores are mostly mindless mines there are a few special rules that dictate how they move and fight. I will deal with these Abilities in reverse order of play. This is because you will need to know what damage they do first in order to know how to deploy them!

Floating Death

When Spore Mines and Mucolid Spores blow up they do a random amount of Mortal Wounds. That's right, hardly anything can save against a Spore Mine blast. This means that you will want to target those units with high saves, specially those with high invulnerable saves. Also as Mortal Wounds carry across models in a unit, you want to look out for multi-model units. My favourite targets are Space Marine Terminators. Other Terminator armour wearing targets are good pickings too, as are characters with invulnerable saves.  Remember if you are shooting your Spore Mines from Biovores or Sporocysts, you can only target a character if they are the closest target.

When they do blow up, Spore Mines have a 1 in 6 chance of causing no damage, 4 in 6 ( 1 in 3 ) chance of causing 1 Mortal Wound and 1 in 6 chance of causing D3 mortal wounds per Mine. This means that they have an average of 1 in 1 chance to cause 1 Mortal Wounds each, or 3 Mortal Wounds for a unit of 3.

The Mucolid Spore has a 1 in 6 chance of doing no damage, 4 in 6 chance of doing D3 Mortal Wounds and 1 in 6 chance of doing D6 Mortal Wounds. This gives an average of 1.92 mortal wounds per Mucolid Spore.

If Spore Mines and Mucolid Spores do not blow up on deployment, then they

Tags: