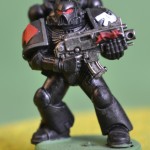 Space Marines! The legions of the Adeptus Astartes, the Angels of Death (and remember that these are the good guys!), the defenders of mankind (ignoring the Imperial Guard, the Inquisition and all). These are the guys that will save the galaxy from the clutches of Chaos (just as long as they don't succumb to Chaos themselves)!
Space Marine are easy to play in Warhammer 40k,and you don't need many of them to make up an army. This means that they are very popular as a first army for new players. Easy to play doesn't mean weak either! Space Marines are definitely the army to beat. If you win a game against them then you know that you have done well!
Space Marines come in many verities, some are different enough to have their own Codex. Examples are Blood Angels, Dark Angels, and Space Wolfs. However there are many Space Marine chapters that follow the standard rules for Space Marines as set down by the Ultramarines, or close enough to use the standard rules with minor tweaks. These are called the.'Codex Space Marines'. In this section we will look at the Codex Marine, their rules and tactics you can use when playing Space Marines in Warhammer 40k 8th edition games.
General Space Marine Tactics
Space Marines are generally very tactical units. By that I mean that units are able to fulfil several roles on the battlefield. They have good armour, good shooting weapons, and are capable of fighting hand to hand. Equipped with an armoured personal carrier (Rhino or Razorback) they can act as fast blitzkrieg / shock troops too. To aid this multi role you will find that most Space Marines are armed with long ranged shooting weapons (Bolters), short ranged Bolt Pistols, and hand to hand Chain Swords.
Common Ability: They Know No Fear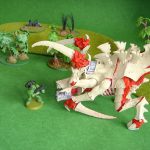 Many Space Marine units have a common 'They Know No Fear' ability. this lets these units re-roll moral tests. This is most useful in the Moral Phase as it can mean that you loose less troops to failed moral checks. However be aware that there are other times when moral checks are needed. An example is when you are on the receiving end of some psychic power.
Space Marine HQ Tactics
Every army needs a leader to lead it to great victories! Well mostly, as in Warhammer 40000 you can get away with not having a leader for your army, but it is a good idea! If you do take a leader, you will find them in the HQ section.
You can take several HQ units in one army if you wish. If you do then you will want to nominate one of them as your general. It is usual to choose the biggest and strongest character as your general, but the choice is yours!
Space Marine Captain Tactics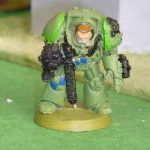 The natural leader for a Space Marine army is a Captain.  They come with different types of armour and can be mounted on Bikes, or even have jetpacks.
Captains are probably the best fighters in a Space Marine army. Both with shooting weapons and in close combat. On top of this they usually have abilities that bolster nearby friendly units.
Captains Ability: Rites of Battle
Captains usually have the Ability called 'Rights of Battle'. This ability allows you to re-roll to-hit rolls of 1 in the shooting phase and in the fight phase. If a near by unit gets to roll to hit in any other phase, say as a result of a psychic power, then they get to re-roll 1's then too. Also remember that the Captain is always within 6″ of himself, soi he gets to benefit from this ability too!
This ability obviously is a greater benefit if you have more units within 6″. These units need to be friendly and from the same Space Marine Chapter, but if you are playing a multi-player game, they can be controlled by another friendly player. Remember that only 1 model has to be in range, and this can be vertically as well as on the same level. Also remember that tanks are units too.
The 'Rights of Battle' ability means that Captains are most useful when they are in the middle of the battle. Have them well supported with other units and get them to where you are going to be making the greatest number of hit rolls! Also remember that you can have two or more Captains in your army. You do not get extra bonuses for them being together. Spread out your Captains so that they will benefit the greatest number of units.
Space Marine Captain Armour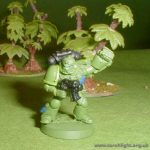 There are several entries in the Codex Asteres for the Captain. The main difference between them is the armour they where. The choices are basic power armour, terminator armour, ancient Cataphractii armour, and basic armour with a motorbike.
A captain in power armour is the cheapest option as far as power points goes. He has an 'Iron Halo' force field device that gives him a 4+ invulnerable save, so this armour is still formidable.
Captains in Power Armour have the greatest range of weapons available. this gives you the best chance to adapt the Captain to your play style. Do you want more fire power? If you do upgrade his bolt gun to a combi-bolter or storm bolter. Do you want more close combat strike power in the fight phase? If you do, have a look at the melee weapons available.
Captains in Power Armour can also be upgraded with jump-packs or a motorbike. Either of these options gives your Captain greater speed. You can use this speed to jump around the table re-enforcing your tactical units or to launch a lightning strike at a vulnerable point to swing the game. Be careful though! If your Captain is caught in the open he will be a sitting duck for and enemy shooting!
Adding a Jump-pack costs an extra 2 power points but gives the captain the Fly key word. This has the unexpected bonus of allowing him to assault aircraft. Yes, if they are in range your Captain can leap up and strike aircraft in mid flight. Armed with a power fist he could do quite a bit of damage too! Truly this is the closest you are going to get to Iron Man in a Space Marine army! (though the Tau HQ is worth a look too)
Upgraded with a Bike, the Captain gains extra fire power and an extra point of toughness. Be aware though that bikes can not clime buildings. This means that bikes are better on larger open boards than city fight scenarios.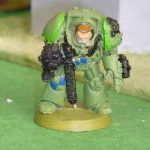 Terminator armour is thick and heavy. This means that the captain has a better chance of saving (2+ basic), and he still gets the Iron Halo ( 4+ invulnerable save) . In addition to this he can take the heavier Storm Bolter that gives him a massive 45 shots at close range and 2 shots and 24″. The Terminator armour also allows him to teleport in to the battle. He can not teleport out again though (until after the battle), so make sure he arrives in the right place. Once he's there he is on foot ( or riding in a Land Raider if you have one). The down side is that the Terminator Captain costs more points and is a bit slower.However if he is backed up with a terminator squad you get a detachments that are really good in close quarter combat and fire fights!
Cataphractii armour is an ancient form of Terminator Armour worn by Space Marine in Warhammer 30000. It is like Terminator armour. Created using techniques now lost in the depths of time the Cataphractii armour has the best saves of all. With a 2+ basic save and a 3+ invulnerable save this armour is the tops! As it is terminator armour you still get the teleport strike ability mighty weapons. The downside in points cost again and that this armour is even slower than Terminator Armour. With Cataphractii armour if you advance you have to half the distance rolled ( so on a roll of 5 you can go 2.5″) .
Primaris Captain Tactics
Primaris Space Marines are the new kids on the block for the 8th Edition of Warhammer 40lk. The story line goes that they have been developed in secret waiting for the Space Marine Primarks to return. Much like the Clones of Star Wars. in gaming terms the Primaris Marines are what the Space Marines should have been. The classic models are not much bigger than an Imperial Guard, but in the fiction and fluff they are meant to be 7 or 8 feet tall. The small classic marines are a throw back to time when Games Workshop was run on a less professional basis (Rough Trader, or Warhammer 40 1st edition). Over time the sculpting skills have improved at GW and models have slowly been re-sized to a proper scale ( first where the Orks, then Rhinos and Land Raiders and now the Marines). After using the classic models for 25 years I am still getting use to the new larger marines, but for new starter to the game I would highly recommend starting with the Primaris Marines.
In game terms the Primaris Captain fairs very well against the classic Space Marine Captain. The Primaris Captain is one power point more but you get better weapons and one ext4ra attack in close combat (hitting on 2+ and re-rolling 1's!).
I would highly recommend upgrading the Primaris Captain to have a power sword. He will is very useful in a fight so giving him the best tools for the job is well with the extra points in a points matched game. In a power lever matched game there's no additional points cost for the upgrade so do it!
The Primaris Captain gets the Iron Halo force field and the 'Rights of Battle' ability like the classic Space Marine Captain, so what I wrote about these for the classic Captain applies here too!
Primaris Captain in Gravis Armour
Instead if protecting your Primaris Captain in the traditional Power Armour, you can choose to have him wear the new Gravis armour. The Gravis armour costs one power point more than the Power armour and reduces the Captains movement to 5″ basic. what it dose offer though is 1 point extra toughness and access to more close combat weapons. I(f your style is to have your Captain lead from the front, then it is worth the upgrade!
Space Marine Librarian Tactics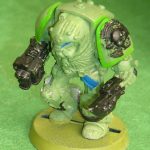 The Warhammer 40000 universe is full of beings with strange psychic powers. These are not dissimilar to the magic powers of the Age of Sigmar game, but a bit toned down. In AoS wizards are a 'must have', in WH40k they are a 'nice to have'. In the Space Marine army these psykers are called Librarians.
Space Marine Librarians are better than most as they can manifest 2 psychic powers each per turn. Remember that in point matched games you can only manifest any given psychic power once per turn for your whole army. If you have several Psykers think about which psyker will use which power. The exception to this once per turn rule is the Smite psychic power.
Space Marine Troop Tactics
The core of any Warhammer 40K army should be the Troop units. You should have enough troop units to make sure that you do not get out numbered.

The Space Marines have 3 main options . The tactical squad, the scout squad and the new Primaries Marine Intercessor Squads. Black Templar marines get the Crusader Squad,but should loose the Tactical and Scout Squads.

Tags: