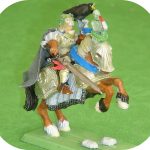 The Freeguild General is a natural General to choose if you are fielding a Free Peoples army. He comes either on foot or on horse and can be armed in a number of ways.
In the Warhammer Fantasy Battles game the Freeguild models made up the Empire army. If you have, or can get hold of some Warhammer Empire models then you will have the core of a Freeguild army.
The first point at note is that the Freeguild General comes either on horse or on foot and the two play quite differently.
General Freeguild General on Foot Tactic

The Freeguild General on foot was the Battle Standard Bearer in the 8th edition Warhammer Fantasy Battles.
The Freeguild General on foot is a great general to have supporting your rank and file units. He can be armed with a great weapon that will aid the troops if you are faced with a monstrous creature. The Freeguild General's Command ability will be useful keeping the rank and file troopers in order.
Another option is to arm the General on foot with a sword and war banner. This improves the battleshock rolls for all Free peoples units in 24″ range. 24″ is quite a reach, however this improves if you control the centre of the table, and the centre of your table.
General Freeguild General on Warhorse Tactic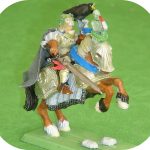 On a horse the Freeguild General has the advantage of additional speed. The General on a Warhorse can move up to 12″ per movement phase, although his run and charge range are not affected. The addition of a horse also adds the horse's attacks and the option to take a lance.

With the extra speed the Freeguild General is able to move up and down the battle line bolstering and supporting whichever area needs the most support. Other options though include moving away from the front lines to strike at the enemy flanks or small abandoned units. Be aware though that your general will not stand long if he is caught unsupported be a sizeable enemy unit. You will need to pick your targets carefully.

The Freeguild General with warhouse can take a lance instead of the sigmarite sword. The lance gives an advantage on the charge in to a new assault. This means that if you get stuck in a protracted combat you loose any benifit after the first round, and you don't even get that benifit if the enemy charges you. This means that if you arm, or have a model with a lance, your best option is to pick out targets that you can wipeout in one round, and probably with a bodyguard of horseman to make up a fast response strike force.

Tags: