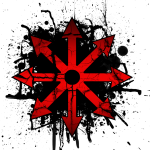 Khorne is the most popular chaos god with players. Khorne is the god of war and the Daemons of Khorne are frenzied close combat killers. The other aspect of Khorne, and it's followers is that there are no Khorne psykers.
Khorne units are all about the fight phase, how to get there with the least amount of damage to your self and how to do the most most damage to the enemy once you are there! To get to the enemy in one piece requires speed and use of cover. Causing the greatest damage requires choosing the right weapon for the target, or the right target for the weapon! Also hit the weakest points of the enemy's army with force.
Daemons of Khorne units work well with Tzeentch units. The Tzeentch can provide psychic long range fire support that Khorne units are usually short of.
Unstoppable Ferocity
Unstoppable Ferocity is an ability that most Daemons of Khorne units have. If a unit has this ability then when they charge in to combat, get charged, or perform a heroic intervention, they get +1 strength and +1 attack until the end of that turn.
Khorne Daemon Prince Tactics
Note: The Errata has changed the Daemon Prince's wounds from 10 to 8.
The Daemon Prince can come in a verity of configurations. If you get a chance have a look at the options available before you build the model. This will give you the chance to configure the model to fit in with your play style. You can see from the attached image that I prefer to have my Daemon Prince with wings. This allows him to deep strike and zip around the table using the maximum damage.
Khorne Daemon Prince Abilities
With a Daemon Prince you must select a Chaos God alignment. If you choose to align with Khorne then you get the Unstoppable Ferocity ability too.
Khorne Daemon princes are not psychers. They get the Might over Magic ability instead. This increases their attack characteristic by 1, so a total of 4 basic attacks.
Khorne Daemon Prince Weapons and Upgrades
Ok, the first big question is wings or no wings. Having wings on your Daemon Prince adds speed. As I mentioned above, speed is one of the main ways you can get in to assault less damaged. With wings the Daemon Prince goes from 8″ per turn to 12″. If you are playing a power level matched game then there are not points increase for having wings, so it's a no brainer, add the wings if you can! In Point matched games the wings adds 24 points. This still seems cheap for the extra speed, and highly recommended!
Unusually for Daemon units, the Chaos Prince gets a shooting option with the 'Warp Bolter'. A Daemon Prince may have this is it was a Space Marine that has been blessed with Daemon Prince form. Even though the Khorne Daemon Prince is thought as a close combat creature having some ranged fire power is very useful. You can do over-watch if anyone is daft enough to charge you!
Khorne Karanak Tactics
Karanak is a names HQ unit for the Chaos Daemons of Khorne army. He is a 3 headed Flesh Hound with souped up stats.
Karanak is designed to by a character assassin. He is quite fast with a 10″ move and has the 5+ daemonic invulnerable saves. These are good but his real skills can be found in the special abilities he has.
Karanak's Brass Collar
Karanak wears a brass collar (well 3 I suppose). The brass collar disrupts psykers in the area. In the WH40 8th ed this is represented by his ability to deny 2 psychic powers each enemy turn. This is not a game changing ability, but it does help even the odds when playing against a psychic heavy army.
Pray of the Blood God
This ability allows you to pick an enemy character at the start of the game, Each time Karanak attacks that character you can re-roll 1's to hit and wound. This means that just about all of your attacks will strike home with a -2 AP and 2 damage. It's a mighty hero that can survive multiple round with this guy!
The rules do not say that you have to reveal Karanak's target to the enemy. However, I do recommend writing it down at the start of the game. This means that you can prove you did not change your target part way through the game!
Karanak has a power level of 6. This means that using the Daemonic Ritual he can be summoned on 2 dice about half the time, and easily if you risk rolling 3 dice.
Khorne Soul Grinder Tactics
Where as most of the Chaos Daemon army was transported from the Fantasy Battles game in to 40k, the Soul Grinder was designed for 40k and been fudged in to Fantasy Battles and Age of Sigmar games. Because of this the Soul Grinder may be the most familiar of the Chaos Daemon choices to an existing 40k player.
With the Soul Grinder you must choose a Chaos God to align to. In this section we will be looking at the Soul Grinder with Daemons of Khorne alignment.
The Soul Grinder is a walker usually armed with both close combat weapons and ranged weapons.
Soul Grinder Weapons and Upgrades
The default weapons that the Soul Grinder comes with is an 'Iron Claw' power fist and a Harvester Cannon.

Tags: