In this section we will look at the Dark Angel Fast Attack choices and the Fast Attack tactics.
The Dark Angel Space Marine Fast Attack come in 4 broad groups, the Ravenwing bikes and Landspeeders, the Assault Squads, Jet fighters, and in the 2015 Codex Dedicated Vehicles can now be taken as Fast Attack choices in their own right and with no attached troop units.
Ravenwing units are better on larger tables or with smaller units in a regular 6×4 table.
Assault Squads are good for dropping in behind the enemy lines or to hit units weakened from heavy weapons fire. Like a hit squad.
The Jet Fighter and the Ravenwing Dark Talon are designed as anti-aircraft fighters. These work better in Apocalypse game.
Dark Angel Assault Squad Tactics
The Dark Angel Assault Squad are regular Dark Angel Tactical Marines that have specialised in close assault. This means that they have all the same special rules that the Tactical Marines do, plus they have the option to take jump packs too.
Dark Angel Assault Squads and Jump Packs
The usual configuration for the Dark Angel Assault Squad is to have jump packs attached. This allows them to Deep Strike in to the battle field during the game to wreak havoc where ever the enemy is weakest. I usually play the Dark Angel army as a heavy weapon heavy army. With this type of army you want to soften up the opponent with a couple of rounds of heavy weapons fire before dropping your Dark Angel Assault Squad in to the action.
The jump packs on the Dark Angel Assault Squads are not as accurate as the Deathwing deep strike as the Ravenwing homing devices do not work for the Dark Angel Assault Squads.
One role that is popular for the Dark Angel Assault Squads are to drop them in behind tanks and other armoured vehicles to take them out using the special weapons that the Dark Angel Assault Squads can have, and then finish the vehicles off in close combat.
One issue you will have if you use the Dark Angel Assault Squads deep into the battlefield is that they will be relatively unsupported. This and the fact that they are usually few in number means that they can be easy pickings for the enemy. The way around this is to assault at the edges of the enemy force picking smaller bite sized targets. This may not be as glamorous as doing a death or glory assault on the main force but it will keep your Assault Squad Marines alive longer, and the effect of whittling down the straggling units should not be underestimated specially if they are holding an objective.
Dark Angel Assault Squads Without Jump Packs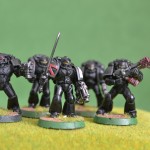 Another option is to create a very cheap Assault Squad. You may wish to do this if you have filled all your troop slots and want more foot solders on the table. Another reason is that you can have two flamers or plasma guns ( on top of what ever you give the Sargent ) in a 5 man squad. This can create a cheep kill squad. The main reason I do this though is because I want to field a Demi-squad and for this you must have an Assault squad in the line-up, but jump troops do not fit in with my general strategy.
Assault Marines without jump packs can be given Dedicated transport. A drop pod is an option but jetpacks are better for deep striking and fast movement later in the game. I favourite dedicated transport are Razorbacks for 5 man squads and Rhinos for 10 man squads. The heavy weapon on the Razorback is great for infantry support.
Ravenwing Attack Bike Squadron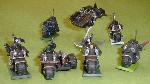 The Dark Angel Attack Squadron consists of a number of Dark Angel Space Marine Bikes, up to one Attack Bike and if you max out the Space Marine bikes, you can take a Land Speeder too. This means that you can have a full task force in one Fast Attack option.
The Dark Angel Space Marine bikes are similar to Codex Space Marine bikes in the way that they work best when there a fair amount of clear space on the gaming table. If the table is too cramped, they foot slogging troops will be able to pen in and take down your pricey bike squadron.
If you do get the space then you want use the Attack Squadron to harass the edges of the enemy forces or if possible take some pot shots at the back of some enemy tanks where the armour is weakest, specially if the Attack Bike Squadron are packing some special weapons.
Attack Squadron strength and weapons
Attack Squadron bikers pack twin linked bolters on the bikes and a bolt pistol as a side arm. The bolt pistol can be traded in for a chain sword, as the bolt pistol can be used as an AP3 assault weapon too, this looks like a poor trade.
Ravenwing Attack Squadrons as troop choices
Ravenwing Bike Squads can no longer be taken as troop choices, however if you wish to field a Ravenwing only army you can be fielding a Ravenwing Attack formation ( page 142 ) or a Ravenwing Strike Force ( page 159).
Ravenwing Support Squadron
Fast Attack and scouting units frequently need some heavy support. In the Dark Angel Army, this is the role best suited to the Land Speeder.
The land speeder can be equipped with a number of different weapon options. What will be the best option will depend on the enemy that you face.
Ravenwing Black Knight Tactics
Ravenwing Black Knights are elite Ravenwing Bike Squads.
Ravenwing Darkshroud
The Ravenwing Dark Shroud is a skimmer that provides moving cover for the units around it.
Nephlim Jetfighter
Since the 7th edition of the Warhammer 40k rulebook. All flyers now get the Skyfire special rule. This means that the Dark Talon has become quite respectable as a anti-flyer & flying monstrous creature fighter
Nephlim Jetfighters are flyers so they are they are difficult to shoot down unless someone has skyfire special rules and then they get vulnerable quickly.
Flyers without the skimmer special rule are difficult to control over a 6 x 4 foot table. If you are not familiar with how flyers move, then you may want to get some flying hours  in before your first big battle using one.
Ravenwing Dark Talon
The Dark Angel Ravenwing Dark Talon is a new addition to the 2013 Dark Angel codex. Designed to by a anti-infantry flyer the Dark Talon is armed with Heavy Bolters and Rift Cannon.
Rhino Armoured Personnel Carrier
Rhino APCs are very basic 10 man personnel carriers. Armed with nothing more than a Storm Bolter, the Rhino is a taxi to ferry your tactical squads in to, and out of danger.
As tanks go the Rhino has thin armour. Don't expect them to stand up to too much anti-tank fire.  While it is around the Rhino can act as line of sight cover for units down range.
 Razerback Armoured Personnel Carrier
If you want to trade carrying capacity for fire power then the Razerback APC could be the vehicle for you. Razerback can carry a squad of 5 Marines and a HQ character in power armour. This makes Command Squads spring to mind. Other options could be a six man tactical squad. My favourite is to use the Razerbacks to ferry 5 man Assault teams into action and back them up with some close infantry support.

Also buy: Discount Space Marine Razerback APC Tanks from Element Games

Tags: