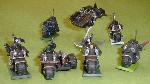 The Ravenwing is the Dark Angel Chapter Bike section. In the 2012 Dark Angel Codex the Ravenwing section has been expanded so that you can field an army that is made purely from Ravenwing units.
To Field a Ravenwing army you need to have either Azrael or Sammael heading up your army. If you have either of these characters in your HQ you can field Ravenwing Attack Squadrons as troop choices.
Ravenwing General Tactics
If you are wanting to play a Ravenwing army you are going to need to be very comfortable with using bikes and landspeeders in Warhammer 40k battles. Bikes have some definite differences to regular Space Marines and you are advised to try out some single player scenarios first to get use to them.
You can find the main rules for Bikes on P45 of the Warhammer 40k Rulebook. Some particular differences you will find:
Bikes are fast. They move up to 12″ in a normal movement phase, but you can 'turbo boost' to move up to 24″ per turn. On a standard 6×4 foot table, that is a big chunk of table per move!
Bikes are relentless. This means Bikes can move & still fire their bolter at full range. Added to the 12″ basic move, this means that any target in 36″ of your starting point is fair game! Attack Bikes are relentless too, this means that with a heavy bolter you have an effective range of 48″.
Bikes are tougher than regular Space Marines. They have the same basic armour value, but they are T5. This means that bolters wound of 5's and lasguns have to roll a 6 to wound.
Bikes on the move also get a 5+ invulnerable ' Jink' save. Stationary bikes do not have this extra save, so keep your biles moving! If you go flat out the save increases to 4+, useful if you are charging a heavy weapon position  ( did anyone say ' Charge of the Light Brigade '? ).
Bikes get the 'Hammer of Wrath' I10, S4, AP- attacks if they charge in to an assault. Note that this only applies to the bikes that get to touch an opponent, and not to the 2nd row of bikers in a big squad, but it is in addition to the usual +1 attack you get for charging in. You can see the ' Hammer of Wrath' special rule details on p37 of the main rulebook.
Ravenwing Biles get a few additional special rules that basic Space Marine bike squads do not get. Specifically:
Grim Resolve & Stubborn. These special rules are shared with many of the Dark Angel units. The Grim Resolve is not good for a unit that you need to keep on the move. You can find the Stubborn special rule details on p43 of the Warhammer 40k Rulebook. Just as well they get the ' Hit and Run ' special rule too!
Hit and Run. You can find the Hit and Run special rule details on p38 of the Warhammer 40k Rulebook. Basically this special rule means that the Ravenwing Bike squads have a change of getting out of combat if they are out numbered.
Ravenwing Combat squads. This is like a regular combat squad except that units of 6 bikers can split in to two units of 3 bikers. This means that you can field more bike squads using the basic organization chart.
Scouts & Outflank. You can find these special rules on p41 and p40 of the Warhammer 40k rulebook. These rules mean that either youcan see how your opponent deploys his forces before you set your Ravenwing Bikers up, or you can swoop in from a table edge part way through the game.
However Bikes do have weaknesses too!:
Bikes do not like difficult terrain. Difficult terrain does not slow bikes down, but they do have to take Dangerous Terrain tests ( p90). This means that too much rough riding will cause casualties! Note that if you assault units behind cover you need to take a difficult terrain test too.
Bikes are often out numbered.  A basic Ravenwing biker is 27 points. You can get two basic Space Marines for 28 points, so they get nearly a 2:1 advantage as far a pure numbers go. The main areas thias effects are pure fire power, the number of attacks in an assault, and the ability to capture objectives. The more units  you have the easier it is to spread out!
Ravenwing HQ Tactics
Like any Warhammer 40k army your Ravenwing force will need a leader or two. One of these leaders needs to be either Azrael or Sammael. This is so that you can have Ravenwing Attack Squadrons as troop choices. As Azrael does not come with transport, Sammael is the obvious choice as a leader.
Azrael Tactics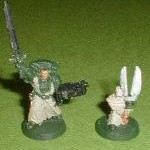 Azrael is the Grand Master of the Dark Angels. Because of this you can take Ravenwing Attack Squadrons ( and Terminator Squads ) as troop choices.
Azrael does not come with any transport, and also he works better when he is backed up by a squad of marines or two. This means that if you are going to use him in a Ravenwing army you will need to draw your opponent to him instead of going after them. This may be fairly easy as a high point value character he will attract trouble. However if you place him near a strategic landmark.
Once trouble does come his way, be sure to have a squad of bikers to hand to counter assault.
Sammael Tactics
Sammael is the natural choice as a leader for your Ravenwing army. Better still, he comes with a choice of two different transport options. You can either place Sammael on his Jet Bike, or he can ride his landspeader.
Other HQ choices
Ravenwing Command Squad Tactics
Ravenwing Elite Tactics
There are no Ravenwing options available in the Elite section. The best option will be to take a Ravenwing Command Squad with your HQ, or a Ravenwing Black Knights squad from the Fast Attack section to fulfil this role.
If you are playing a scenario that needs an Elite unit, consult with your opponent to see if they let you take a Ravenwing Black Knights squadron as al Elite choice.
Ravenwing Troop Tactics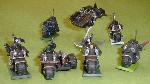 If you have either Azrael or Sammael as a HQ choice then you can have Ravenwing Attack Squadrons as Troop choices. This is the only really practical solution if you want to field a pure Ravenwing army.
Ravenwing Attack Squadrons
The Ravenwing Attack Squadrons where designed to be ' an army in a single unit'. Because of this they are surprisingly adaptable and very useful.
Ravenwing Fast Attack Tactics
The Ravenwing have quite a choice of units they can have as Fast Attack options.
Ravenwing Darkshroud
Ravenwing Support Squadrons
Ravenwing Black Knights
Nephlim Jetfighter
Ravenwing Dark Talon
Ravenwing Heavy Support Tactics
Land Speeder Vengeance
Tags: