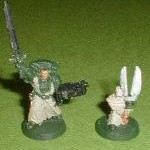 In The Dark Angels are a dark and forbidding Chapter of the Emporium. They where the first chapter to be created and they have a terrible secret that they absolutely must hide. A result of this the Dark Angels display traits not seen in other chapters. The main one is their  legendary stubbornness.
When you face a Dark Angel force you know that they will fight to the last man. This army is perfect for the more calculating clinical player. Because of this the Dark Angels are considered as boring by the more flamboyant players. Do not be put off by this, if you keep an even head then you will win more games than all the other chapters put together.
The Dark Angel codex is the complete rules to use the Dark Angel Space Marine army. You need the main rule book, but it is not an add-on to the main Space Marine Codex as it has been in the past.
If you are playing a Dark Angel Space Marine army on a regular basis I highly recommend getting the printed version of the Codex. It is far easier to zip back and forth through printed pages then it is to use bookmarks in an e-reader.
Coming Soon: More Dark Angel Formations
General Dark Angel Tactics
An army is not just a collection of individual units. To get the best results you will need to know how to use different combinations of units, each with their own strengths and weaknesses, and how the use them together to build an unstoppable force.
Codex Overview
The 2015 Codex sees the Dark Angel units presented as datasheets. This means that more of the spacial rules are presented on the same page as the points cost and stats. The Data Sheet pages also come with a dramatic picture of the unit and a block of background about that unit too. This makes building army list so much easier!
A big change in the army formation is that Command Squads are nor separate Elite choices. This means that you could take multiple command squads, and that HQ units can now move out of the command squad during the game. Do not let this fool you though. The Dark Angel chapter more than any other Space Marine chapter rely on the Space Marine Tactical units as the core of the army.
The Hunt For The Fallen
The Dark Angels feature in new Warhammer 40k box set along with a Chaos Space Marine army. It is no surprise then that the new Dark Angel Codex includes a number of special rules that give  you an advantage if you are fighting a Chaos Space Marine army. The most obvious of these is that most of the HQ have the Preferred Enemy ( Chaos Space Marines ) special rule.
Legendary Stubbornness
Dark Angel Space Marines have always been famous for their stubbornness. In the 2015 Codex you will find that most units have the 'Grim Resolve' special rule. This rule gives the Dark Angels the Stubborn special rule in addition to the ' They Know No Fear ' special rule. The bonus of this stubbornness is that the Dark Angels will fight to the last man. This means that the Dark Angel Space Marine will kill more of the enemy per model than the other Space Marine Chapters will. This is specially noticeable if you use the Combat Squads option for you Tactical squads. When you are using Combat squads, the units are reduced to 5 men units. When you have smaller units that the Dark Angle Stubbornness really starts to show. However the downside is that they will not back down from close combat even when there is no hope of winning.

The Grim Resolve special rule also gives the Dark Angel units twice the chance of hitting when firing Overwatch. This is great when you are bracing for and assault.

One key issue with the Dark Angel special rules is that you need to get to the objectives before your opponent and brace for the counter assault. The best ways to do this is to deep strike in, or zip forward on bikes or in Rhinos. It's usually all rights sending a small force forward as long as you can get some reserves there in 1 or 2 turns.

Also buy: Discount Space Marine Dark Angel Supplies from Element Games

Tags: